To support the development of parallel algorithms, a heterogeneous cluster is operated by IPE. Several generations of parallel accelerators from different HPC vendors are available to the scientists. Due to the heavily heterogeneous configuration and rapid changes of the parallel programming SDKs, the administration of the system is complicated and time consuming.
The student will take care for the administration of the cluster hardware and software.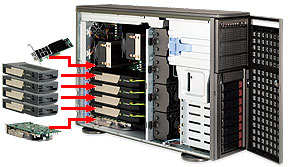 Supermicro GPU Server
PCle 2.0 Extension Box with 4 GPU adapters
The task includes:
System maintenance and upgrades
Installation of additional hardware nodes and
components
Configuration of Infiniband and MPI communication
stacks
Maintenance of parallel SDKs from AMD, Intel, and
NVIDIA
Administration of Nagios configuration and scripts
Problem diagnostics for software and Hardware
Required Skills:
Very good knowledge of Linux and the ability to find and solve system problems; scripting languages.
Conditions:
The position is intended as a long-term engagement with a work time of about 30h per month.
Contact:
Suren Chilingaryan
suren.chilingaryan@kit.edu
+49 721 / 608 26579 Timo Dritschler
timo.dritschler@kit.edu
+49 721 / 608 25693